Read about favorite curriculum choices of our homeschool families across Alaska!
We invite families to share information about their favorite curriculum choices and other resources. Below you will find reviews on various programs and materials. If you would like to submit a review, please send it to your advisory teacher.
write at Home
If you are looking for a Writing program for 6th -12th grade students, you will want to look at Write at Home.


Although I've heard great things about the program for several years, this is the first time I've used it with my boys. I only signed up for the first semester course, and they are disappointed that their course is over and continually remind me that they want to enroll in it next year as well.
Write at Home is a written composition course. Though it addresses some grammar usage, it is not a grammar course. Students are given one assignment per week. After a student submits an assignment he or she works with a writing coach to improve the composition, writing a second and then a final draft.
Write at Home does an excellent job challenging and encouraging students to develop good writing skills. They also do an equally good job of assuring that students are safe by implementing a stringent online safety policy.
If you try Write at Home, you may be headed for your best year of writing yet.
– A. Dougherty
Amazing Poetry Curriculum for Middle School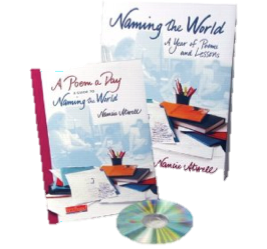 "This is so boring!" "I don't get it." "I hate poetry!" Getting teens to read, understand, and write poetry is no easy task. Nancie Atwell's Naming the World: A Year of Poems and Lessons "Harnessing[sic] the power of poetry… empowers adolescents to make sense of their personal place in the world while honing their critical reading and writing skills." These lessons don't teach the techniques and devices of poetry but instead teach teens about "the kind of adults they wish to become and the kind of world they hope to inhabit." The poems Nancie chooses "speak to adolescent interests and issues" and "include poems by Nancie's kids to teach and inspire yours." There are 150 mini-lessons. Each one provides a context for the poem, some features to notice, a guide for the student to use in analyzing the poem, and finally an invitation to think like the poet and find inspiration.
Poetry was my daughter, Eliza's, favorite part of the day and mine, too. The curriculum spurred her to write poems that were inspiring, funny, contemplative, comforting, and revelatory. I saw Eliza look into herself and grow as a writer/poet and a person over the year.
Naming the World: A Year of Poems and Lessons is published by firsthand, an imprint of Heinemann and can be found at www.heinemann.com
– K. Barber
All Things Fun and Fascinating
I decided to supplement the language arts curriculum I am using because it does not include much creative writing. After much frustration, I finally found a program that can be used as a stand alone just for writing. It is All Things Fun and Fascinating by the Institute for Excellence in Writing. This basic introduction to writing course helps students in grades 3rd-5th organize and create writing. When done a few times a week, it is a year-long program.
They read interesting short stories then do outlines, revisions, and free writing. It includes ways to dress up writing with sentence openers, quality adjectives, and how to avoid boring verbs. As such, this program goes well with any language arts course that includes grammar.
It gives students a chance to apply what they have learned while building confidence in creative writing.
The short stories the lessons are based upon are perfect for upper elementary. My son's in fourth grade. Free writing has always been a struggle for him. However, he is really enjoying going through the lessons in this program and his writing quality and confidence are improving. So if you are looking for a fun writing program that focuses more on the process of writing rather than just grammar, consider All Things Fun and Fascinating. ~F. Collins
"I not only like the way this teaches math, but also that it is semi-scripted."
– Right Start Math – quote from a parent.
Brave Writer includes online writing support, curriculum for digital download as well as a blog about writing.
All About Spelling and All About Reading are favorites with parents as the instruction is comprehensive with little to no prep time required for implementation.